Black Butterflies explores the subculture of durags, and how the accessory has become a symbol of identity, style, and self-care within Black communities. The hybrid approach to the story illuminates an untold beauty tradition.
Project Details
Status In Progress
Type Hybrid
Director(s) Morgan Mathews
Writer(s) Morgan Mathews
Producer(s) Kelley Robins Hicks, Ezra Ezzard, Gene Finley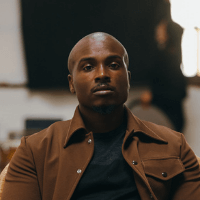 Writer/ Director
Morgan Mathews
Morgan Mathews is a filmmaker from Atlanta currently based in Oakland, California. His journey into filmmaking isn't conventional – he didn't go to film school and has spent most of his post-grad years working in corporate spaces. While working at a tech company in 2019, Morgan co-wrote and directed a half-hour dramedy series concept, Bit., which is currently in a packaging agreement. In 2020 Morgan was the first grant recipient of the Season's NY Creative Artist Fund and was accepted as am artist-in-residence for the 2021 SFFILM's FilmHouse residency for the film, Black Butterflies.
Producer
Kelley Robins Hicks
Kelley Robins Hicks is a filmmaker born in Houston, TX and based in NYC. After an award winning college swimming career, she worked as an actor with work featured on Californication and Castle and the Avengers before moving to the producing side of the industry. Her film producing work has been featured at Tribeca(Queen of Glory), Toronto (Tramps) and Sundance (How to Tell You're a Douchebag) Film Festivals. She is an Executive Producer of the Peabody award winning HBO series Random Acts of Flyness and she is member of the producing team of the Warner Bros film Space Jam: A New Legacy.
Executive Producer
Ezra Ezzard
Ezra Ezzard is the Founder and CEO of Artification, the modern media company behind the distribution of the New York Times Critics Pick Documentary System K by Renaud Barret, and The State Against Mandela and the Others. He has held positions at BritBox and led the distribution for Michael Apted's 63 Up. At BBC Studios, he worked across the acquisition and distribution of independent films including Academy Nominee Hubert Sauper's We Come as Friends and the National Theatre's London Road starring Academy Winner Tom Hardy, and Emmy Award Winner Olivia Colman.
Executive Producer
Gene Finley
Gene Finley IV is the the founder of Chocolate Chip Media, Co. Pulling from his experiences as a Tech Leader at several Bay Area and global companies, Gene was moved to start a company that revealed the untold stories of underrepresented populations. As the head of Chocolate Chip Media, Gene is exploring relevant cultural references with the purpose of inspiring audiences to dream big and do great things. Gene created and executive produced a half-hour dramedy series concept, Bit., which was nominated for Best Short runner-up at the 2020 BronzeLens Film Festival.